Winston Churchill Limited Edition 'The Raconteur' 2016
Davidoff is proud to announce 'The Raconteur', a new Limited Edition of Gran Toro cigars. Inspired by the world's most iconic cigar aficionado, Sir Winston Churchill, and named after an aspect of his personality as a master wordsmith. The cigars will celebrate some of his most renowned and memorable sayings.
---
Davidoff est fier de présenter « The Raconteur », une nouvelle édition limitée de cigares Gran Toro. S'inspirant de l'amateur de cigares le plus emblématique du monde, Sir Winston Churchill, le cigare « The Raconteur » dont le nom fait référence à l'une des facettes de sa personnalité – son talent à jongler avec les mots – entend mettre en exergue certaines de ses célèbres citations ayant marqué les esprits.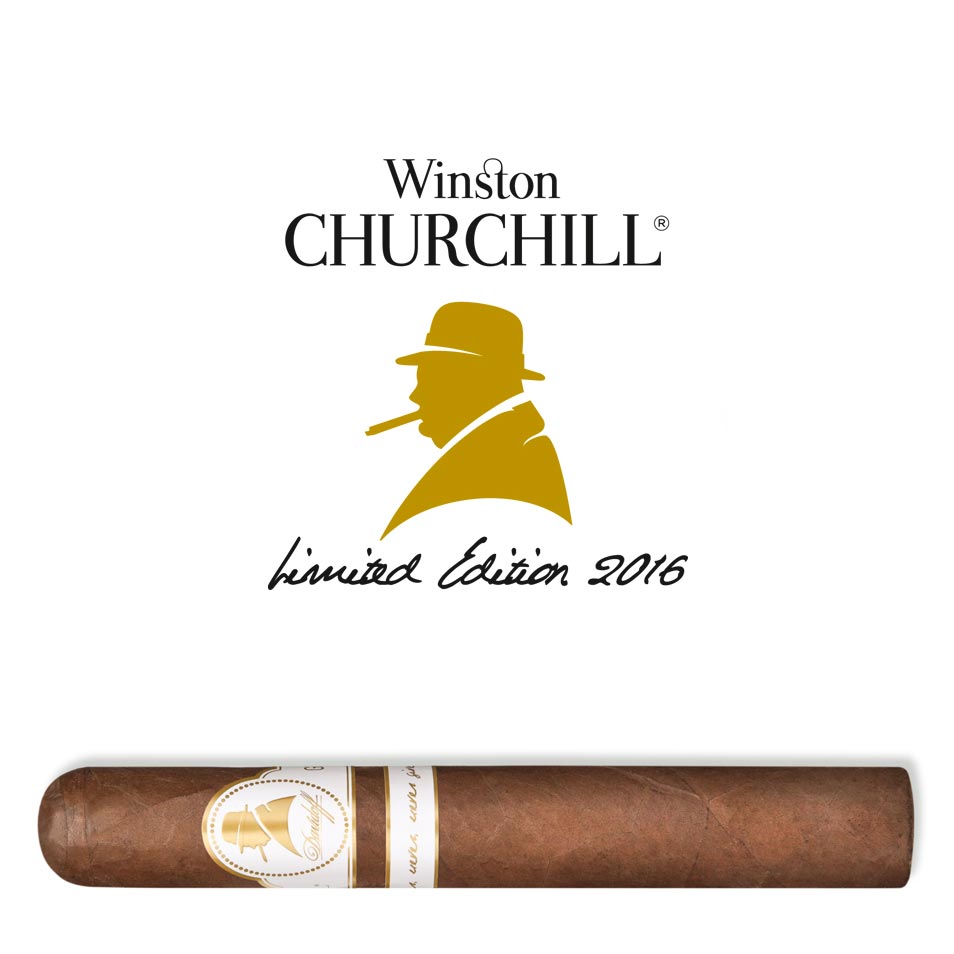 'The Raconteur', is an extraordinarily complex Gran Toro cigar that harmonises the tobaccos of Nicaragua, Mexico, Ecuador and the Dominican Republic. It has a lovely shiny and oily Habano Ecuador wrapper. Nutty flavours give way to an instant creaminess that imbues the cigar until the very end. The intense, complex aroma, the roasted notes and hints of pepper, oakwood and leather echo the other Winston Churchill cigars, but this cigar has more intensity of flavour. The delicious concentration of flavour and aroma lasts the whole way through thanks to the 56 ring gauge and the Piloto Visus. An exceptional cigar with a complex character driven by the unique 15-year-old San Vicente Ligero tobacco blended with spicy Nicaraguan Estelí and sweet/aromatic Nicaraguan Condega tobaccos.
Only 6,000 wooden boxes, each containing ten cigars with a different quote, have been crafted in an elegant white design, carefully chosen to showcase the iconic silhouette of Sir Winston Churchill.
Davidoff's new 'Raconteur' range will be available to cigar aficionados at Davidoff Depositaires and Davidoff Flagship Stores worldwide from February/March 2016.
« The Raconteur » est un cigare Grand Toro extraordinairement complexe mariant à merveille des tabacs du Nicaragua, du Mexique, d'Equateur et de République dominicaine. Il comporte une exquise cape Habano Ecuador, brillante et huileuse. Des arômes de noisette laissent place à une onctuosité immédiate qui imprègne la cigare jusqu'à la fin. L'intense arôme complexe, les notes grillées et les nuances de poivre, de chêne et de cuir rappellent les autres cigares Winston Churchill, mais avec plus d'intensité. La délicieuse concentration de saveurs et d'arômes perdure pendant toute la dégustation grâce au calibre 56 et au tabac Piloto Visus. Un cigare unique doté d'un caractère complexe émanant de l'exceptionnel tabac San Vicente Ligero vieilli 15 ans, auquel viennent s'ajouter les tabacs nicaraguayens Estelí épicés et Condega doux/aromatiques.
Seules 6000 boîtes en bois de dix cigares, tous ornés d'une citation différente dans leur élégant écrin blanc, ont été soigneusement sélectionnés afin de mettre en vedette la silhouette emblématique de Sir Winston Churchill.
La nouvelle gamme « The Raconteur » de Davidoff sera proposée aux aficionados chez les dépositaires Davidoff ainsi que dans les Davidoff Flagship Stores du monde entier à partir de février/mars 2016.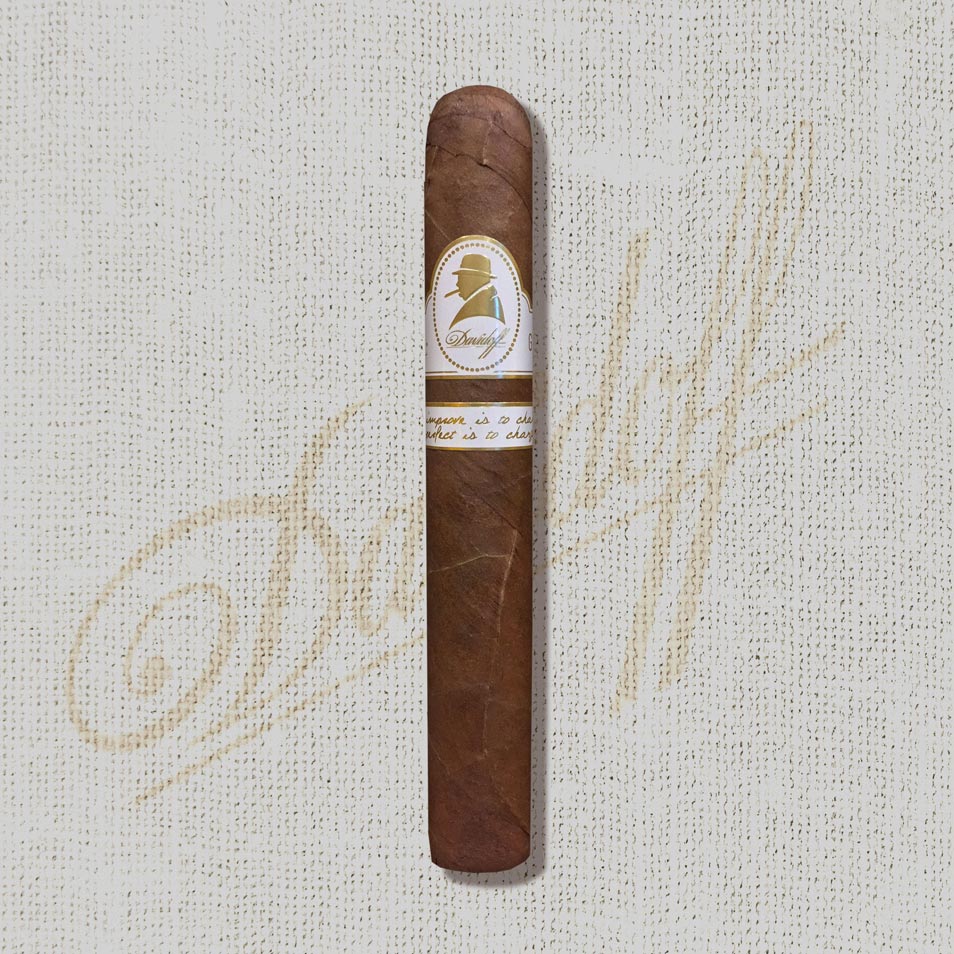 THE BLEND
Wrapper:
Ecuador: Habano Ecuador
Binder:
Mexico: Negro San Andres
Filler:
Nicaragua: Estelí Ligero, Condega Seco
Dominican: Piloto Visus, Hybrid Olor/Piloto Visus, Piloto Seco, San Vicente Ligero (15 years)
Diameter: 2.3cm; RG 56
Length: 15.2cm; 6"
Format: Gran Toro
L'ASSEMBLAGE
Cape :
Equateur: Habano Ecuador
Sous-cape :
Mexique : Negro San Andres
Tripe :
Nicaragua : Estelí Ligero, Condega Seco
République dominicaine : Piloto Visus, Hybrid Olor/Piloto Visus, Piloto Seco, San Vicente Ligero (15 ans)
Diamètre : 2,3cm ; RG 56
Longueur : 15,2 cm ; 6"
Format : Gran Toro